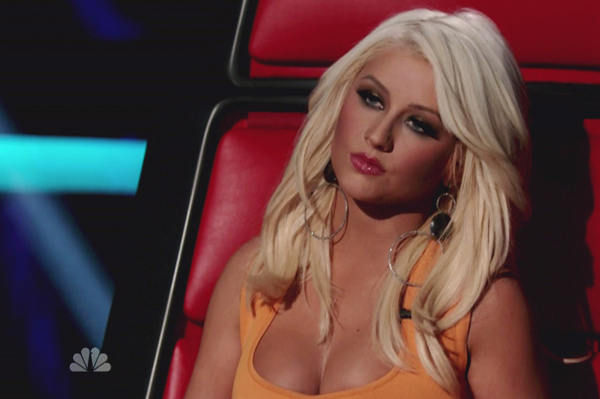 With her stint in The Voice rejuvenating a once shaky pop stardom ride, things are going uphill for the once troubled diva. She's emerged triumphant from the many 'acts' that amassed collected gasps and shock from the public. From the now trivial super bowl national anthem blunder to the sprayed-tan scandal in one of her idol's live wake, the media flocked to her "aid" like those bald vultures tearing on flesh of a prey carcass.
One might wonder why in spite of all the bad publicity surrounding her, Christina's star power grows stronger each time, now on her 12th year in the industry. Aguilera's secret weapon had always been her incredible voice and talent, which were highlighted with her joining The Voice.


Unsurprisingly, most legends before her thought she's the only one in pop music who could do their 'tributes' justice when the time comes. So, so far, here are her 5 Most Legendary Tributes:
5. Etta James - At Last
At last
is constantly sung whenever Aguilera embarks on tours and live shows. A self-confessed Etta James fan, Aguilera was able to meet the legendary singer at a photo shoot back in 2006, and a friendship was sealed. Of all the versions of the song performed by Aguilera, the one in James' wake had been considered by many as the most heartfelt, powerful, and full of soul.
Aside from the sprayed tan fiasco that set the cyber space ablaze, Aguilera's haunting version made its mark as to how the love song had suddenly become the perfect funeral theme song!
Genius
. Aguilera's voice was extra raspy that resonates of how the late legend sings her song; gritty and raw.
4. Whitney Houston - Run to you
Not too many people knew in Aguilera's early career days that she paid a tribute song to the late Whitney Houston. BET was honoring the late singer a lifetime achievement award, and many were surprised Aguilera was chosen to do the tribute. One of Houston's most difficult songs to sing,
Run to You
was deemed too tricky for Aguilera's then maturing chops. Aguilera really had the guts to sing a legendary song in front of a mostly black audience! I could only imagine the pressure.
Aguilera delivered a somewhat different but noteworthy rendition. She is clearly a smart vocalist, avoiding the difficult parts of the song and inflecting her own flairs to it. Watching the performance for the second time opens to the uniqueness and artistry quality this rendition seeks to achieve, and it did. On Houston's acceptance speech, she thanked the petite singer and complemented her rendition as she truly enjoyed the most (besides hers, of course).
3. Nina Simone - I love you porgy
The tribute saw Aguilera gloriously singing in her lower register. She almost sounded unrecognizable, like a reminiscent of the past jazz singers of the 40s. Often criticized for her over singing, Aguilera showed restraint all throughout the song and unleashed the melisma, putting her twist, the Aguilera way, in the end. After seeing this performance, one would wish she'd incorporate this style to her songs. After all these years, she's still got tricks left on her sleeves.
2. Arethan Franklin - Ain't no way
It was happening a week after the Superbowl anthem flub and expectations were very high for the singer to redeem herself from the ashes. Teaming up with other females each representing a genre to tribute the Queen of Soul, Aguilera was pop's emissary. While there's definitely a diva entrance (Aguilera sang on her red mic stand and no introduction was made, unlike the four ladies), Ms Christina delivered a stunning performance of
Ain't No Way
(often dubbed as one of Franklin's hardest songs to sing).
It was really unbelievable how she managed to sing different keys in a two minute song while singing in that small body of hers. Damn, the chick sounded like a fat black woman. All of the ladies did a great job. It was later voted by the viewers as the best performance that night (besting Gaga's egg-laden performance).
1. James Brown - It's a man's world
The 49th Annual Grammys saw many acts performing on the show, including Beyonce and Mary J Blige. When Aguilera sang
It's a Man's World
, it was over. Who would've expected a white girl to tribute a black guy's most iconic song and nail it? The scorching (and screaming performance) earned her a standing ovation and 3rd place (behind Green Day and Celine Dion) in Grammy's list of Most Memorable Grammy performances. Personally, I was mind-blogged seeing her on stage. Where does that voice coming from? The Godfather of Soul, James Brown, is smiling in the heavens.

Aguilera had been the most fortunate to be able to do tributes to people she used to dream of singing to. Not many singers were given this privilege. For many, Aguilera may come off as cold, but to many she comes off as the only pop singer that could deliver Grammy-worthy performances and that one singer that always excites whenever she's on stage.